SAVE THE DATE FOR THE NEXT BEACH GRASS PLANTING!
March 25, 2017 from 9:30 am - 12 pm at Ocean Bathing Area #1.
---
Throughout the spring and fall the Friends of Island Beach State Park team up with many other organizations to plant dune grass in the park.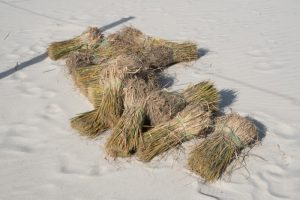 Why do we plant dune grass? Dune grass plays an important role in stabilizing the dunes during storms. Dunes are the primary defense against storms and the powerful ocean surge.
What can you do? Join us for a future planting! The next dune grass planting will be on March 25.
---
The Friends of Island Beach thanks our sponsors for the 2017 events. Please support local these local businesses:
---
In 2016 with help from over 450 volunteers we planted 200,000 dune grass plants, 100 beach plum trees, and 1,000 golden rod plants. THANK YOU for your help as a steward of the park!!!
Here are photos from our largest fall planting on December 3, 2016. Many thanks to photographer and FOIBSP Board Member Ray Halgreen for sharing the images.
And, here is video from the same day (12/3/16). Thank you Gregory Coraggio!